A RETREAT IN MIDCOAST MAINE FOCUSED ON COMPLETING AND EMBELLISHING YOUR HAND KNITS
May 24-26, OR 27 2014
WHAT YOU CAN EXPECT:
Full-fashion knitwear assembly.
Crochet edgings for knitters.
Selecting and designing custom handspun yarn for finishing.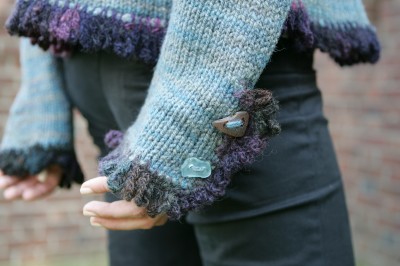 How to care for your hands and wrists.
Combining colors for your next project.
Visit Meadowcroft Farm to meet sheep, new lambs and herding dogs.
Purchase SEACOLORS yarn at special retreat prices.
Bring your unfinished, barely started, or almost finished project and your wheel if you spin.
Includes all accommodations, YUMMY meals and snacks,  booze not so much.
Location:
The Kennedy Learning Center at Camp Keive, Damariscotta Lake, Nobleboro, Maine
Visit https://www.kieve.org/KLC/index.htm for a virtual tour.
Located on a peninsula in Damarascotta Lake, Kieve has been a boys camp since 1926. Well beaten paths, with plenty of woods and water, there are places to wander and ponder on foot or by wheelchair. "Roughing it" in total comfort, the Learning Center has a big wraparound deck, with screen porch, to keep bugs out, and loon calls in. Expect the time of year to have chilly nights and long days, with who knows what kind of weather anymore. About 7 miles from town, everything will be gearing up for summer. Another 10 mile radius includes lots of attractions from Pemaquid Lighthouse to Moody's Diner. Take your pick. The pace of the retreat is intended to be comprehensive, but not stressed. Snacks will be served throughout the day, with fruits and nuts available at all times, coffee, tea, etc. Of course, at no extra charge. We are very fortunate to find a weekend opening and get the Learning Center at a pre-season price. Though we hope to duplicate the event again, not so sure it will be such a bargain!
Cost:
$330.00 per person double occupancy ($440 single)
Includes all classes and meals Saturday Supper through Monday Lunch.
Stay an extra day (May 27) for only $100.
Additional charge for optional, private massage.
Staff:
Nanne Kennedy: Owner, Farmer, Spinner, Dyer and Designer of Meadowcroft Farm, Seacolors Yarn and The Maine Blanket.
Laurie Sims: Fiber Artist, Teacher, Designer and Seacolors' Assembly Guru & Crochet Finisher.
Aloisia Pollock: NCR, Knitwear Designer extraordinaire, with a passion for life and reflexology.
Sunday
7:30 Breakfast
8:30-10:30 Group session with Laurie
Assembly techniques for desired results.
"Crochet Edgings for Knitters"
11-Noon Group session with Aloisia.
We will be learning techniques to work on each other, to pass forward to friends and other hand workers.
Learn and share relaxing hand reflexology and sample oils for soothing sore muscles and arthritis. Aloisia will also be available for private, full body massage in one of the rooms, by appointment, at a retreat price.
Noon-1 Lunch
1-2 Fiber Dynamics, Dry Blending fibers & colors, and Spinning for Finishing Touches. Group session with Nanne,
2-5 WHEEL'S UP! Nanne will custom spin whatever you want to make your efforts sparkle. Got silk, got lots of my merino roving, got alpaca and silk blends, and we can blend some more with color. While Laurie does one on one's with folks who want it.
6:00 LOBSTAH DINNAH! Or some other local favorite, your preference.
Evening Stitch Time. Take a hot tub? Walk? OR GO SWIMMING IF YOU DARE!
Nanne, Laurie and Aloisia will be available for individual help and advice.
Monday
7:30-9 Breakfast
Morning Stitch Time with individual attention available from Nanne, Laurie or Aloisia
12:00 Lunch
1-4 Meadowcroft Farm visit. It's lambing time and there will be plenty of babies to tend.  I lamb on pasture and will be happy to show you dogs working too.
Optional. About a half hour by carpool.
Depart at your leisure or STAY FOR ANOTHER DAY FOR ONLY $100!
Monday evening, choose your adventure, or stay in for knitting, finishing, polishing. Tuesday morning we can do natural dye intro, using different mordants with onion skins, and something wild gathered depending on what we find. Intentionally, we are keeping this flexible.
To Register:
At this time we're going old-school and registration will be by email, snail mail or by seeing Nanne at a market or festival.
Please send a note with the following information:
Name, Address, Phone, Email
Any food concerns. There is no alcohol available, but you may bring your own.
A check for full amount payable to Seacolors OR credit card details (name on card, number, expiration date, billing address for this card)
$330.00 Double Occupancy (state roommate if you know or we'll match you with another friendly knitter)
$440.00 Single
Add $100.00 to stay through May 27
*$50.00 is non refundable after May 1, 2014
Mail to:
I Dream of Finishing
Nanne Kennedy
45 Hopkins Road
Washington, ME 04574
For additional questions you may ask on the FB page "I Dream of Finishing" or email Queen@getwool.com
Impressum:  Sponsored by Seacolors Yarnery and GetWool.com