For a natural, " green" source of warmth, cozy up with the Maine Blanket, made from 100% wool grown from grass-fed sheep and woven on antique looms right here in New England.
All of our blankets are woven in natural colors and accented with Seacolor Stripes from yarn that has been hand dyed in seawater using solar vats.
No chemicals or petroleum products– just seawater and the sun!
The twill weave blankets are woven on antique power looms at a century-old woolen mill, from fiber that is bred and blended for its soft hand and durability, then commercially spun into a light weight worsted yarn.  Antique power looms and our New England grown wool preserves a tradition of self-reliance that delivers warmth for generations.
The result is a lasting Maine-made keepsake that is as functional as it is beautiful.
Maine Blankets come in a variety of sizes:

MERMAID NAPPERS

An oversized throw to cover your toes, with lively colors that fit any room or décor. Sized for kids, daybeds, sail bunks, the porch rocker,stargazing, air travel, or YOUR side of the bed.
45 X 70  $280
BUY NOW
SALT BAY BED THROWS
The 70" x 90" bed throw features a reproduction of a three-stripe design originally woven in Wilton in the 1840' s and currently on display at the Maine State Museum.   Its classic design and comfort stands the test of time and promise warmth for generations to come. The perfect compliment to any sleep system. An accent, throw or insulation layer, this blanket promises warmth for generations. 
Fits twin generously, full, or queen on top.
70″ X 90″  $450
BUY NOW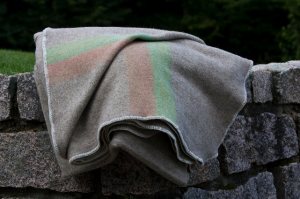 THREE BAGS FULL
Fat stripes of my SEACOLORED yarns are juxtaposed in this bigger than king to recall a moment in nature as wild as you want to be. This juicy woolen is a third again bigger than King size and three of my soft sheep for a full year's growth.
As a Queen blanket layer or full coverlet, this one is napped for a little fuller hand.Luxurious warmth starts with your own body heat, soft wool helps you hibernate, colors make you dream.
90″ X 120″ $600
BUY NOW
Meant to be enjoyed now  and destined to become an heirloom.
This one-of-a-kind treasure supports your body heat for generations to come.
 Indulge yourself while supporting your country side.…..Order Yours Here