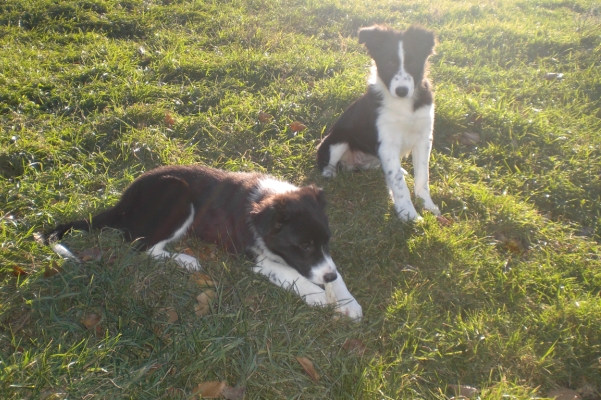 No pups right now, more coming in July!  Stay tuned…
 SALLY (with the spotty nose) ,was named as her ears used to wing out to the side like the flying nun (Sally Field). She has a sensitivity, and had a shyness, and would disappear under the shed when I brought in the pack.
I worked with her individually for a bit, and now she is the first one into the kennel. She is gentle, and wants to be handled a lot, and will melt in your arms and stay by your side.
A negative experience might put her off, but she will come back. Her body type is more lean and stretched out, and I think she will be like my Leelu, who flies like a bird, and is so gentle on the sheep they love her and are never fussed in her command.
Angel, as she was initially so self contained and calm, has a blocky build and wide head, she has become the boss. Very strong physically and powerfully aware of her world, she will be less rattled by environmental influence and change.  
I suspect she may even thrive on the challenges. She still melts in your arms though, and responds fast to the need to bond with everybody and everything. She will be happy to do your bidding as long as she knows what it is.
New pups born, look more like guinea pigs!…. If you are interested we are taking deposits now… Call Nanne or use contact form here at website.
They are ABCA registered (NOT AKC!) I feel strongly in keeping the working lines working, as long as you define the job and help them rise to the occasion.

I am not in favor of that job being in a show ring, nor breeding willy nilly if your dog and it's mating does not have something to offer the breed, but will not place any restrictions on the sale like spay/neuter agreements or loss of their ABCA registry in favor of another.
This is your path, and your conscience. I hope this helps you make this important decision. It's a 15 year commitment, more or less, and worth every blessed minute.
If you are interested in meeting the pups please contact me directly at queen@getwool.com or 207-845-2587