For a natural, sustainable source of warmth, cozy up with the Maine Blanket, made from 100% wool grown from grass-fed sheep. Woven on antique looms in New England, all blankets are woven in natural colors and accented with Seacolors Stripes from yarn that has been hand dyed in seawater using solar vats.
No chemicals or petroleum products — just seawater and the sun!
Our twill weave blankets are woven on antique power looms at a century-old woolen mill, from fiber that is bred and blended for its soft hand and durability, then commercially spun into a light weight worsted yarn.  Antique power looms and our New England grown wool preserves a tradition of self-reliance that delivers warmth for generations.
The result is a lasting Maine-made keepsake that is as functional as it is beautiful.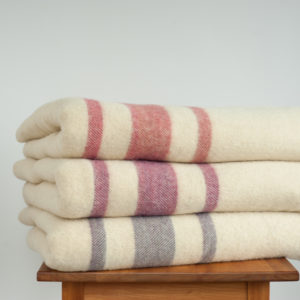 Real Queens
This three stripe design replaces the Salt Bay Bed Throw in a generous size to fit any queen, bed that is. A reproduction of a blanket in the Maine State Museum collection originally woven in Wilton, Maine when our wool and textile industries defined local, rural economics. This one is soft and thick, with hand dyed stripes in many limited edition colors. At 92″ X 96″, it will tuck on any queen, and even fit a King! Hand-dyed stripes with Seacolors yarns at both ends. Select color below by clicking "Choose an option".
$

500.00
Select options