[columns][span7]
Colors as we see them in nature.
Solar dye vats with clean, Maine seawater from Great Salt Bay.
Apparel fiber bred for softness and functional versatility.
Fleeces handled as though for hand-spinning, shaking out any short bits that might pill, and commercially spun into a lightweight worsted yarn.
Each year is slightly different, which is why we call it a Yarnery.
Seacolors dye process makes use of a low impact, solar derived heat source for prewash and rinse, setting the dyes, and even driving the hot air for the dying station. Using the greenest dyes of the day, color agents a formulated with seawater instead of chemical salts or metals to make the colors fast. This process has a lower carbon footprint, less waste, and is completely recyclable. The discharge is recovered and returned to the soil as an irrigation source for better forage production, and is even more environmentally friendly than natural dyes set with alum or copper.
[/span7][span5]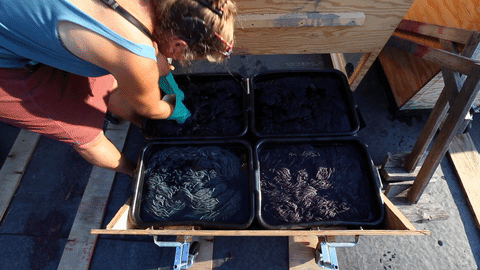 [/span5][/columns]
All Made Available for YOU to Experience as
ONE OF A KIND YARNS, SWEATERS, and MAINE BLANKETS.
[space_20]
[btn text="Questions? Contact Us Now" link="/contact" border="100″ borderradius="50″ size="large" icon="icon-mail-send"]
[space_20]